Description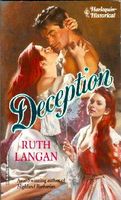 CON ARTIST OR LADY?
Shane Driscoll was in desperate need of a woman --- though not for the obvious reasons. The dashing lord was actually quite the ladies' man, but when capricious King Charles decided to marry him off, Shane came up with his own choice: the enchanting Lady Claire.
Claire had certainly picked the wrong sheep to fleece this time! Caught red-handed, she had no option but to play her part in the nobleman's bizarre scheme. Yet acting her way through the opulent charade was surprisingly easy compared to hiding her heart

from the irresistible Shane.
Full Synopsis