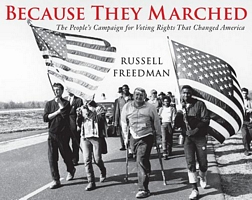 Newest Release
Bibliography:

14 Books

First Book:

April 1982

Latest Book:

August 2014

Rating:
Book List in Order:
14

titles
---

---

---

Lincoln: A Photobiography

Abraham Lincoln stood out in a crowd as much for his wit and rollicking humor as for his height. This Newbery Medal-winning biography of our Civil War president is warm, appealing, and illustrated with dozens of carefully chosen photographs and prin...

---

---

The Wright Brothers: How They Invented the Airplane

A Newbery Honor-winning biography of the men whose experiments brought about the Age of Flight.  This engaging narrative account of Orville and Wilbur Wright, two men with little formal schooling but a knack for solving problems, follows their inte...

---

---

Out of Darkness

/ General Fiction

A biography of the 19th century Frenchman who developed Braille. The book spans Braille's life from childhood through his days at the Royal Institute for Blind Youth and into his final years, when the alphabet he invented was finally gaining acceptan...

---

Immigrant Kids

A refreshingly un-woeful introduction to the experience of being a young urban immigrant around the turn of the century. . . . photos make the scenes real and recollections of immigrant childhoods give them a personal dimension . . . Concise, graphic...

---

---

---

Who Was First?

Many generations of American schoolchildren were taught that Columbus discovered America, and a holiday reminds us every October. But historical investigation in recent years has shown us otherwise. There is evidence that adventurers, explorers, trad...

---

The Boston Tea Party

More than any other event, the Boston Tea Party of 1773 has come to stand for the determination of American colonists to control their own destinies. From the arrival of the ships full of controversial taxed tea in Boston Harbor, through the explosi...

---

Because They Marched

For the 50th anniversary of the march for voting rights from Selma to Montgomery, Alabama, Newbery Medalist Russell Freedman has written a riveting account of this pivotal event in the history of civil rights. In the early 1960s, tensions in the s...

---

The War to End All Wars

Complemented by archival photographs, an accessible introduction to the "Great War" explains its relevance as a conflict that involved many nations and casualties while introducing modern weaponry and military strategies that have shaped all subseque...

---
Award-Winning Books by Russell Freedman
Lincoln: A Photobiography
1988 Newbery Medal -- Children's
Who Was First?
2008 Children's Book Committee Award -- Nonfiction
Frequently Asked Questions (FAQ)
Russell Freedman has published 14 books.
Russell Freedman does not have a new book coming out soon. The latest book, Because They Marched, was published in August 2014.
The first book by Russell Freedman, Killer Fish, was published in April 1982.
No. Russell Freedman does not write books in series.