Description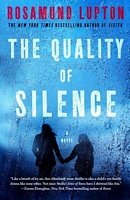 The gripping, moving story of a mother and daughter's quest to uncover a dark secret in the Alaskan wilderness, from the New York Times bestselling author of SISTER and AFTERWARDS

Thrillingly suspenseful and atmospheric, THE QUALITY OF SILENCE is the story of Yasmin, a beautiful astrophysicist, and her precocious deaf daughter, Ruby, who arrive in a remote part of Alaska to be told that Ruby's father, Matt, has been the victim of a catastrophic accident. Unable to accept his death as truth, Yasmin and Ruby set out into the hostile

winter of the Alaskan tundra in search of answers. But as a storm closes in, Yasmin realizes that a very human danger may be keeping pace with them. And with no one else on the road to help, they must keep moving, alone and terrified, through an endless Alaskan night.
Full Synopsis
About the Book
Published:

Feb-2016

(Hardcover)

Nov-2016

(Paperback)

Formats:

Print / eBook / Audio

Pages:

304

Purchase:
What Readers Are Saying
What do you think? Write your own comment on this book!
Write a Comment

"He knew now that a landslide a hundred feet wide was moving towards the ice road, frozen soil and rocks and shrunken trees stealing closer by a few centimetres a day, gaining speed and destroying anything in their way; as if the land itself, like the cold, was not just passively hostile but actively aggressive"

The Quality of Silence is the third novel by bestselling British author, Rosamund Lupton. When Yasmin Alfredson and her ten-and-a-half year-old daughter, Ruby, arrive at Fairbanks, Alaska, they expect that husband and father, Matthew there to meet them. Instead, a police officer is telling Yasmin that the remote village where Matthew was photographing wildlife, Anaktue has been burned to the ground with all lives lost. And the finding of Matthew's wedding ring seems to confirm that he is one of the victims.

But Yasmin remains unconvinced; she is steadfast in her belief that her husband is still alive, alone in the wilderness, and is determined to find him before the predicted storm hits. With no safe place to leave Ruby, Yasmin is obliged to bring her profoundly deaf daughter along. No available flights mean that road transport is the only option, and before long, events see Yasmin driving a loaded eighteen-wheeler in the Arctic dark of November on an ice road. And someone seems to be following them.

Lupton's plot is original, while her characters have depth and appeal; she states in the acknowledgements that she wanted her heroine to be courageous and imaginative, and Ruby certainly is that, with her deafness adding a unique perspective. Lupton conveys the Arctic cold and dark with consummate ease. The reader is treated to some beautiful descriptive prose.

This is a real page-turner of a book with a nail-biting climax (or two), twists and red herrings to keep it all interesting, and a strong environmental message to convey. Lupton's extensive research into Arctic life, animals and people, into fracking, and into deafness (as well as her personal experience on this subject) is apparent on every page. Readers will find themselves contemplating society's attitude to disabilities like deafness, as well as the pros and cons of fracking.

If the reader can sufficiently suspend disbelief about a relatively inexperienced English driver successfully operating an American eighteen-wheeler on an ice road in the dark, then this is a brilliant read.
With thanks to the GoodReads Giveaway program for this copy to read and review.