Description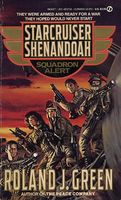 THE GUARDIANS OF PEACE GO TO WAR

In the twenty-sixth century, the United Federation of Starworlds is sworn to protect the many planets under its sway at any cost. So when the call for aid is received from Victoria, a world divided between the Federation and its most powerful competitor, the Freeworld States Alliance, Captain Rose Liddell orders the battle cruiser Shenandoah repaired and redirected into space at breakneck speed. But as the Shenandoah reaches the Victoria system, it discovers a situation more explosive than anyone had

been prepared to face. Someone is manipulating Federation and Alliance forces alike... someone ready to use hijacking, terrorism, and a starship with advanced militaristic capabilities. And unless they can find out who this unknown opponent is, the two superpowers might find themselves firing the opening missiles in a war neither wants--yet neither can prevent!
Full Synopsis