Description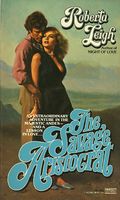 "YOU GIVE YOURSELF THE AIRS OF AN ARISTOCRAT. BUT YOU'VE GOT THE MANNERS OF A SAVAGE!"

When beautiful Vanessa Wayne arrived in Peru to buy native clothing for the fashionable London boutique where she worked, none of the Indian women would sell to her.

One man was behind this conspiracy - the handsome Ramon de la Rivas, who kept Vanessa prisoner in his fabulous villa and in a remote mountain hut, forcing her to face the harsh reality of life in the tiny Andes villages.

Vanessa was enraged. Until she

discovered that this savage aristocrat could also be a gentle conqueror....
Full Synopsis