Description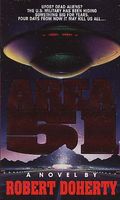 THE MOST CHILLING EXPERIMENT OF ALL TIME IS ABOUT TO BEGIN.
THE PRESIDENT DOESN'T KNOW ABOUT IT. THE PRESS DOESN'T KNOW ABOUT IT. JUST A FEW SCIENTISTS AND MILITARY PERSONNEL DO,
AND THEY ARE ABOUT TO MAKE A VERY BIG MISTAKE....

NASHVILLE, TENNESSEE...
An unemployed freelance journalist receives an audio tape that nearly scares her to death--then sends her racing to New Mexico.

OUTSIDE NELLIS AIR FORCE BASE, NEW MEXICO...
An investigative reporter and a UFO watcher sneak into a restricted zone called Area 51.

INSIDE THE GREAT PYRAMID, EGYPT...
An archaeologist makes a startling discovery deep within the Lower Chamber--a discovery that could change the world.

INSIDE NELLIS AIR FORCE BASE, NEW MEXICO...
Mike Turcotte, formerly of Special Forces, joins Nightscape, the elite security force guarding Area 51, and sees something that makes his blood run cold.

THE WHITE HOUSE, WASHINGTON, D.C....
Dr. Lisa Duncan, the President's scientific adviser, leaves to join Majic-12, the top secret project at Nellis Air Force Base... to try to stop it before doomsday begins....
Full Synopsis
About the Book
Published:

Mar-1997

Formats:

Print / eBook / Audio

Pages:

316

Purchase: