Description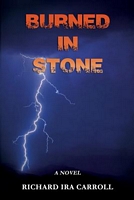 BURNED IN STONE
A Novel by Richard Ira Carroll

You won't be able to put down "Burned in Stone," a page-turning adventure with twists and turns that keeps you guessing at what happens next. You'll have to stay up an extra hour. You'll want to see how they get out of this one.
Steam was shooting out everywhere from the ancient ore-hauling steam engine. If I give it full throttle now, would it go around the curve too fast and tip over? I had no choice. It was now or never
"Burned

in Stone

" is a novel of epic proportions, a story the reader will not easily forget. A thoroughly researched and well-written prologue sets the stage for this slam-bang novel.
Dr. Mathew Lane, Ann Tyler, and Jim Morgan, the three archaeologists who discovered Noah's Ark on Mount Ararat, are on another dangerous undertaking as they search for the crown jewel of biblical artifacts, the real Ark of the Covenant
Love, jealousy and heart-wrenching tragedy enter the story when Stephanie, a stunning beauty who possesses an ancient parchment map, agrees to join them in the search. Every area our adventurers search reveals another clue leading to another place or another country. This fast-paced journey takes them from Thailand, to the depths of the Mediterranean Sea, to Jerusalem and finally to Mount Sinai in Egypt. Here they discover something so totally unbelievable. . . something so phenomenal. . . it will have a profound effect on every man, woman, and child on the face of the earth
"Burned in Stone" is the sequel to an equally exciting novel, "The Lost Photographs," also available at your favorite book store.
Full Synopsis
About the Book
Published:

Dec-2017

Formats:

Print / eBook

Pages:

340

Purchase: