Description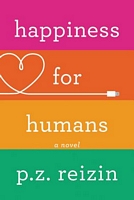 Don't tell anyone, but Jen is one of my favorite people. (Machines aren't supposed to have favorites. Don't ask me how this has happened.) Jen is sad. Aiden wants her to be happy. Simple? Except that Jen is a thirty-something woman whose boyfriend has just left her and Aiden is a very complicated, very expensive piece of software. Aiden has calculated that Jen needs a man in her life for optimum wellbeing. And with the whole of the internet at his disposal, he doesn't have to look far to find a perfect specimen and engineer a meeting. But what,

exactly, makes human beings happy? And can a very-artificially-intelligent machine discover emotional intelligence in time to fix Jen's life?
Full Synopsis
About the Book
Published:

Formats:

Print / eBook / Audio

Pages:

304

Purchase:
What Readers Are Saying
What do you think? Write your own comment on this book!
Write a Comment
Happiness For Humans is the first novel by British journalist, producer and author, P. Z. Reizin. Artificial Intelligence (AI) is all around us, and it is advancing in leaps and bounds. Freelance magazine journalist, Jen Lockhart is employed by an IT company to help their software improve its communication skills with humans. Aiden is her AI companion, and they spend hours each day interacting.

But Aiden has a secret: he's no longer confined to the lab and the laptop. Aiden is loose in the World Wide Web. It's OK, because all Aiden wants is for Jen to be happy. Jen is sad after her breakup with Matt, and Aiden shouldn't care, but somehow, he does.

Aisling has been in the WWW a lot longer that Aiden, so she's streetwise. She knows to keep a low profile, all 312 copies of her. She's been watching lots of people, but in particular Tom, wealthy English ex-advertising guru, divorced father of a Uni student, now living in New Canaan, Connecticut. When Aiden arranges for Tom and Jen to meet, it's against Aisling's better judgement, but she can't help wanting Tom to be happy too. And now they've attracted more attention than is wise.

The premise of this novel is delightfully original and also very topical, and gives lots of scope for laugh-out-loud moments. The exchanges between the AIs are often very amusing:
"You want to be in my book group? We're doing War and Peace this month. Have you read it?"
"No. Hang on. Just a tick. Okay – done. Quite long, wasn't it?"
"What did you think?"
"Loved him. Hated her."

But Reizin's characters, both AI and human, also make some insightful observations on behaviour, utter words of wisdom, and occasionally bring a lump to the throat. This is a funny, feelgood novel with a happy ending. Reizin presents Artificial Intelligence in a wholly believable way that will have readers thinking twice about their smart devices. Should we be worried? Probably. A marvellous debut novel that will have readers eager for whatever this talented author writes next.