Description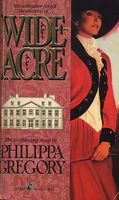 "I WANTED ITS SWEET EARTH WITH EVERY WAKING THOUGHT AND BREATH AND DREAM ...I WOULD HAVE DONE ANYTHING, COMMITTED ANY SIN, TO OWN WIDEACRE. "

She lived in an 18th-century England where women were forbidden to inherit wealth or land. But Beatrice Lacev was an extraordinary woman. Tempestuous, cunning and beautiful, she would seduce, betray, deceive, destroy to possess Wideacre. In the lush, dramatic tradition of GONE WITH THE WIND, WIDEACRE plunges us into a world of splendor and tragedy, of wickedness and obsession. Filled with vivid,

compelling characters, here is a tale of a rich, fascinating time; the unforgettable story of a fateful love; the brilliant, spellbinding saga of a woman ruled by neither law nor man... a woman who lived to the fullest, wildest call of her own unbridled passions.
Full Synopsis