Description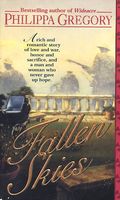 PEACE HAS COME -- IT IS TIME TO LIVE AGAIN

Singer Lily Valance wants to forget the war. She vows to live for the present and enjoy the music and glitter of the frantic 1920s. Captain Stephen Winters joins in on the post-war frenzy, and falls in love with the vivacious performer. But, privately, the aristocratic hero is tortured by the war's painful memories.

Lily and Stephen dream of loving each other through the mad post-war years. But it is a dream that cannot last. Lily has no intention of giving up her thriving

singing career, while Stephen's nightmares appear more and more real to him. As the perfect facade of the noble Winters family begins to crack under the strain of the truth, Stephen, Lily, and their family face a crisis all are powerless to stop. The time for reckoning moves ever closer--when they must accept the tragic past, or risk losing the peace of the future forever.
Full Synopsis