Description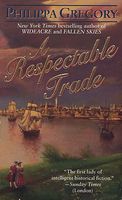 From its bustling docks to its elegant houses in 1787, Bristol, England, is a city where power and wealth beckon to those who dare...

Josiah Cole wanted nothing more than to live in luxury and excess, like the richest of men whom he admired. But he needed money and connections. When he arranged a marriage with Frances Scott, a penniless aristocrat, he found someone who could get him both.

When Frances entered Josiah's world she discovered that her fortune now rested on the respectable trade of sugar, rum, and slaves. As she learned to train servants for her impeccable home, Frances met Mehuru, a priest from the ancient and civilized African kingdom of Yoruba. From opposite ends of the earth and social scale, Mehuru and Frances found each other, and reluctantly discovered the raging desires of passion, love, and the insatiable need for freedom.

In a breakthrough novel that has all the power of Roots and The Thornbirds, Philippa Gregory has created a haunting tale of forbidden love and exhilaration, a rich and poignant story that sets individuals against a society devastated by intolerance and greed.
Full Synopsis