Description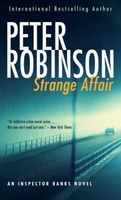 On a warm summer night, an attractive woman hurtles north in a blue Peugeot with a hastily scrawled address in her pocket, while, back in London, a desperate man leaves an urgent late-night phone message on his brother's answering machine. By sunrise the next morning, the woman is found inside her car along an otherwise peaceful country lane, shot, execution-style, through the head.

Welcome to the idyllic Yorkshire Dales, where Detective Inspector Annie Cabbot arrives on the scene and discovers, to her surprise, a slip of paper in the dead woman's pocket that bears the name of her colleague and erstwhile lover, Detective Chief Inspector Alan Banks. Banks, meanwhile -- already haunted and withdrawn after nearly dying in the fire that destroyed his home -- has gone missing just when he's needed most, and has left plenty of questions behind.

As Annie struggles to determine whether or not Banks is safe -- and what role he may have played in the woman's murder -- Banks himself investigates the mysterious disappearance of his estranged brother, Roy, whose late-night call for help brings Banks back to London. Working from Roy's swank apartment, Banks makes the rounds to Roy's old haunts and slowly inhabits the life of his younger brother -- the black sheep of the family, who always seemed to sail a little too close to the wind. As the trail of clues about Roy's life and associations draws Banks into a dark circle of conspiracy and corruption, mobsters and murder, Banks suddenly realizes he's running out of time to save Roy, and by digging too deep, he may be exposing himself and his family to the same -- possibly deadly -- danger.
Full Synopsis
What Readers Are Saying
What do you think? Write your own comment on this book!
Write a Comment
After the fire that destroyed Banks' cottage and almost cost him his life in the previous book, this one begins with Banks still away from work and dealing with some major issues like PTSD and depression. He receives a message from his estranged younger brother Roy, asking for his help. Banks tries to reach Roy, who lives in London and can't get in touch with him. Banks decides to go to London and see for himself what happened to his rather questionable younger brother. He finds that the door to Roy's flat is unlocked and Roy's mobile is on the kitchen table, but it's been twelve hours since the frantic voice mail and Banks has no idea where Roy could be. He begins to investigate on his own. Back home in Yorkshire, the body of a young woman is found on an abandoned country road. She had been forced off the road and shot to death. DI Annie Cabot is assigned the case. A note with Alan Banks' old address is found in the back pocket of her jeans, so Annie is tasked with trying to find Banks. They meet up in London, and they find out that their two cases are somehow linked. Both of them are doing their own investigation and they find themselves in the dangerous underworld of prostitution, smuggling and human trafficking. Things get very dicey for both of them, and Banks suffers another unimaginable loss, so Annie worries about his well-being. This is an excellent book and this is a truly excellent series. I normally like to read five or six mystery series -one book at a time in each series, but this is one series where I am very tempted to binge read the remaining books. I love DCI Alan Banks. He's a remarkable force in the fictional detective world. I highly recommend this excellent series by Peter Robinson.