Description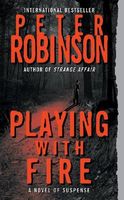 FIRE--It consumes futures and pasts in a terrified heartbeat, devouring damning secrets while leaving even greater mysteries in the ashes.

The night sky is ablaze as flames engulf two barges moored side by side on an otherwise empty canal. On board are the blackened remains of two human beings. To the seasoned eye, this horror was no accident, the method so cruel and calculated that only the worst sort of fiend could have committed it. There are shocking secrets to be uncovered in the charred wreckage, grim evidence of lethal greed

and twisted hunger, and of nightmare occurrences within the private confines of family. A terrible feeling is driving police inspector Alan Banks in his desperate hunt for answers--an unshakable fear that this killer's work will not be done until Banks's own world is burned to the ground.
Full Synopsis
What Readers Are Saying
What do you think? Write your own comment on this book!
Write a Comment
I absolutely love the Inspector Banks series, and have been reading my way through the series. This book was good with the characters fully fleshed out and enough suspense to keep me turning pages, but it didn't have the "slam in the gut" plot twists that I've come to expect from Peter Robinson. I had figured out who the perpetrator was about halfway through, and that never usually happens with an Inspector Banks book. That is why I gave the book four stars instead of my usual five. There is an arsonist in and around Eastvale, and people are being burned in their homes. At first there doesn't appear to be a connection between the two fires, but as Banks and his team start digging, they find some old history between two of the victims. The characters in these books are what sets this series apart from other police procedurals. Robinson's characters are so brilliant and so alive that it almost seems like you are reading true-crime narratives. I highly recommend this series, but read it starting at book one so you will get the full effect of Robinson's character development.