Description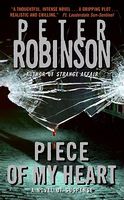 The year is 1969. Rock 'n' roll, psychedelic drugs, and peace-loving hippies are thriving in Britain. But in the aftermath of a rock music festival, cold reality strikes when a woman is found murdered in her sleeping bag, callously left among the debris in the concert's wake. Detective Inspector Stanley Chadwick is the hard-headed, straitlaced copper assigned to the case who must reluctantly enter a counterculture world to find a killer. When clues lead him to an up-and-coming rock band, the Mad Hatters, with whom the victim was connected, Chadwick experiences firsthand the dangers of this dark new world of sex, drugs, and rock 'n' roll.

In the present day, Detective Chief Inspector Alan Banks is called to the scene of a murder victim who turns out to be a freelance journalist working on a piece for MOJO magazine about the classic rock band the Mad Hatters. Since the sixties, the band has gone through a number of tragedies, losing one member to madness and another to the shallow end of a swimming pool. Putting their checkered past behind them, the Mad Hatters have now revamped their sound and are set to celebrate their forty years in the biz by embarking on their first big concert tour in years.

Banks and Detective Inspector Annie Cabbot discover that the dead journalist was onto something big hidden in the band's past, and had stirred up some very serious trouble. As Banks and Annie dig deeper into the phenomenon of the Mad Hatters, they find more than they bargained for, and soon realize that their generation's former free-love lifestyle often comes with a deadly price.
Full Synopsis
What Readers Are Saying
What do you think? Write your own comment on this book!
Write a Comment
I love Alan Banks and I love Mr. Robinson's stories about Alan and his crew as they solve murders in Yorkshire. This book was especially enjoyable since there was a lot of name dropping of wonderful bands and the musicians that played in them in the late 1960's and early 1970's. The book has two parallel mysteries - one in October of 1969 at a big rock concert in Yorkshire, investigated by Inspector Chadwick, and another in present-day Yorkshire that is being investigated by Banks and his team. The story flipped back and forth between the two time frames, until it becomes obvious to Banks that the two murders are connected, even though almost 40 years separates them. I enjoyed the book, but it wasn't quite as suspenseful as previous books in the series. Some of the tension was lost in the slipping between the two timeframes. I still enjoyed the book, and this is one of my favourite series right now.