Description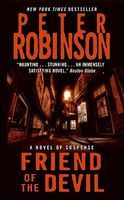 Chief Inspector Alan Banks and Detective Inspector Annie Cabbot must work together to solve two chilling crimes in a stunning new novel by New York Times bestselling author Peter Robinson

One morning in March, on the edge of a cliff overlooking the sea, a woman named Karen Drew is found in her wheelchair with her throat slit. Back in Eastvale on that same morning, in a tangle of narrow alleys behind a market square, the body of Hayley Daniels is found raped and strangled.

Two murders . . . two towns . . .

/> On loan to a sister precinct, Detective Inspector Annie Cabbot draws the first case. Karen Drew seems to have lived a quiet and nearly invisible life for the past seven years. Try as she might, Annie turns up nothing in the woman's past that might have prompted someone to wheel her out to the sea and to her death.

Meanwhile, in the Hayley Daniels murder, Chief Inspector Alan Banks has suspects galore. Everywhere she went, the nineteen-year-old student attracted attention. Anyone could have followed her on the night she was out drinking with friends, making sure she never made it back home.

Then a breakthrough spins Annie's case in a shocking and surprising new direction, straight toward Banks. Coincidence? Not in Eastvale. Banks and Annie are searching for two killers who might strike again at any moment and with bloody fury.
Full Synopsis
What Readers Are Saying
What do you think? Write your own comment on this book!
Write a Comment
This is the 17th book in my beloved DCI Banks series. As usual, it was well-written with a plot that moves along at a reasonably fast pace. In this book we have Banks working on a rape and murder that occurred really close to his police headquarters, and we have DI Annie Cabbott working from another police station and she's trying to find the murderer of a quadriplegic woman. Who would slit the throat of a quadriplegic woman who hasn't even been able to speak for years? Annie digs deeper and discovers a whole secret life for this victim, and the suspect pool incrases exponentially. Eventually these two separate investigations appear to be linkied somehow, so Banks and Annie work together to try to solve them both. I love Robinson's writing. He is methodical and his character development is thorough and complete. After 17 books, I have really come to like Robinson's characters. And he always winds everything up in the end and leaves no loose ends. Another good entry in this very strong series.