Description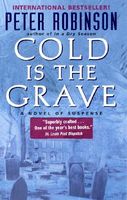 The nude photo of a teenage runaway shows up on a pornographic website, and the girl's father turns to Detective Chief Inspector Alan banks for help. But these are typical circumstances, for the runaway is the daughter of a man who's determined to destroy the dedicated Yorkshire policeman's career and good name. Still it is a case that strikes painfully home, one that Banks -- a father himself -- dares not ignore as he follows it's squalid trail into teeming London, and into a world of drugs, sex, and crime. But murder follows soon after -- gruesome

,sensational, and, more than once -- pulling Banks in a direction that he dearly does not wish to go: into the past and private world of his most powerful enemy, Chief Constable Jimmy Riddle.
Full Synopsis
What Readers Are Saying
What do you think? Write your own comment on this book!
Write a Comment
Robinson's Alan Banks series is getting better and better. Each book is complex and the mystery is never straight-forward and easy to figure out. I had seen this particular one done for television before I read the book. As usual though, the book was much, much better because there's more time to develop a storyline and a plot. And Robinson's writing is wondefully easy to read while being intricate and detailed at the same time. Banks is a very realistic character and after reading eleven of Robinson's Banks books now I feel that I'm really getting to know this character and I can't believe how multi-facted he is. In this book, Banks is asked by his supervisor to find his sixteeen year old daughter who has run away to London. He is asked to do it off the books, and Banks being Banks, is very thorough in his search. He finds young Emily but he uncovers a real rat's nest of intrigue that she has become enmeshed in. Almost ineveitably the web of lies, deceit and crime follow Banks and Emily all the way back to Yorkshire when he brings her home. I can tell you that if I ever found myself "in a spot of trouble", I would dearly love to have Alan Banks in my corner. I can't recommend this series enough.