Description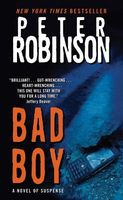 Acclaimed internationally bestselling author Peter Robinson delivers a fast-paced, nail-biting thriller in which Detective Chief Inspector Alan Banks must face his most challenging and personal case yet

A distraught woman arrives at the Eastvale police station desperate to speak to Detective Chief Inspector Alan Banks. But since Banks is away on holiday, his partner, Annie Cabbot, steps in. The woman tells Annie that she's found a loaded gun hidden in the bedroom of her daughter, Erin--a punishable offense under English law. When an armed response team breaks into the house to retrieve the weapon, the seemingly straightforward procedure quickly spirals out of control.

But trouble is only beginning for Annie, the Eastvale force, and Banks, and this time, the fallout may finally do the iconoclastic inspector in. For it turns out that Erin's best friend and roommate is none other than Tracy Banks, the DCI's daughter, who was last seen racing off to warn the owner of the gun, a very bad boy indeed.

Thrust into a complicated and dangerous case intertwining the personal and the professional as never before, Annie and Banks--a bit of a bad boy himself--must risk everything to outsmart a smooth and devious psychopath. Both Annie and Banks understand that it's not just his career hanging in the balance, it's also his daughter's life.
Full Synopsis
What Readers Are Saying
What do you think? Write your own comment on this book!
Write a Comment
I have been thoroughly enjoying the Inspector Alan Banks series. Robinson's hero is just a guy that you'd love to know, but one that you know is intense and one that won't let anyone or anything interfere in his search for justice. In this book, DCI Banks is more personally involved than usual. He is in the States for a soul-reviving holiday when the story begins, but before too long the crimes and the people involved are directly in Banks' orbit. When he comes home to England he finds out that his daughter has been taken, and his partner and one-time lover Annie Cabbot has been badly injured in the line of duty. That's enough to send the loose cannon who is Alan Banks on his own as he tries to save his daughter. One thing about Alan Banks books, they never proceed in the way that you think they will, and there is always an ending that sets things up for the next book in the series. I find that the hook that Robinson uses to accomplish this is very effective, because I'm always tempted to just move on to the next book right away. Normally, I prefer to let the series proceed at a slower pace because riding with Alan Banks is somewhat like being on a roller coaster. Having said that I can't wait to read number 20. I highly recommend this series for those who love to read police procedurals with human characters and very intense mysteries.