Description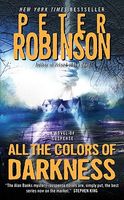 Detectives Alan Banks and Annie Cabbot return in another electrifying novel from the acclaimed award-winning author of the New York Times bestseller Friend of the Devil

When the body of a man is discovered hanging from a tree in the woods near Eastvale, all signs point toward suicide. At least that's what it initially looks like to Detective Inspector Annie Cabbot.

The man is soon identified as Mark Hardcastle, the set and costume designer for the local amateur theater company. Mark was successful and well liked in the community, but enough remains mysterious about his background that suicide isn't completely out of the question. But when Mark's older and wealthier lover is discovered bludgeoned to death in his home, Annie begins to think differently. Could it have been a crime of passion, or did overwhelming grief lead to a man taking his own life? Increasingly confounded, she calls in the vacationing Chief Inspector Alan Banks--even if it means prying him away from his new girlfriend.

Once on the investigation, Banks finds himself plunged into a case where nothing is as it seems. More and more his own words about the victim's latest production, Othello, are coming back to haunt him, for "jealousy, betrayal, envy, ambition, greed, lust, revenge--all the colors of darkness" are quickly becoming his world as well.
Full Synopsis
What Readers Are Saying
What do you think? Write your own comment on this book!
Write a Comment
I love this series and I did enjoy this book, but I wasn't happy with the ending. There was no real resolution to the mystery, and Banks does not get to put this one in his solved file. The body of a man is found hanging in the woods, and his partner is found battered to death in his home, All the powers that be say it's a simple murder-suicide, but Banks isn't convinced. So ignoring his boss's request to let it end, he goes off on his own to try to figure out what actually happened and why. He finds himself at loggerheads with other high level agencies as they try to keep a lid on their many secrets. At much personal risk to himself and to his friends and acquaintances, Banks continues his off-the-books investigation. But the other agencies end up wininng in the end, and all is swept under the rug. Even though it was a murder-suicide, the reasons behind it and the reasons for the intrusions into Banks life and into his friends are neve revealed - not even to the reader. I am looking forward to reading the next book in the series to see where Banks goes with the knowledge he has discovered, and maybe get some closure to this book which seemed unfinished to me.