Description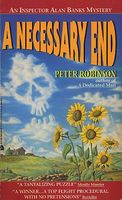 An anti-nuke demonstration in the normally peaceful Yorkshire town of Eastvale has ended with fifty arrests--and the brutal stabbing death of a young constable. Fired by professional outrage and 'a long simmering hatred, London CID Superintendent Richard "Dirty Dick" Burgess takes charge of the investigation--and descends with vengeful fury upon the members of a Sixties-style commune called "Maggie's Farm."

Detective Chief Inspector Alan Banks is uneasy over the unwanted intrusion of an overzealous, "hippie-bashing" interloper into

an already volatile situation. And though crossing Burgess could cost him his career, it falls to Banks to find the true assassin--before one man's misguided obsession results in further violence and murder.
Full Synopsis