Description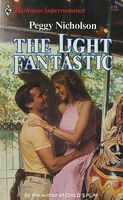 SHE HELPED HIM SEE HIS OPTIONS

Tripp Wetherby's publishers deemed it essential for their award-winning author to participate in a cross-country treasure hunt promoting his latest mystery. Press coverage, autographings, big prizes--and total panic. Tripp was afraid to fly.

Therapist Rennie Markell intended to bail out after coaxing Tripp from Chicago to New York. But from Rhode Island to L.A., she found herself not only calming her phobic author, but solving clues ... and falling in love.

Perhaps his hang-ups

weren't insurmountable. Tripping the light fantastic took on a new meaning when Wetherby invaded Rennie's airspace!
Full Synopsis