Description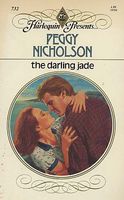 "I've always wanted to blackmail a beautiful girl. "

Jade Kinnane regretted the day she'd driven into Zan Wykoff, causing him to break his wrist. She'd paid his hospital bills and agreed to help him meet the deadline on his new book. But his demands just kept increasing.

Zan was off beat and exciting--the kind of man who'd accidentally break a heart and never be held responsible. He was too dangerous, even for Jade's usually reckless tastes.

Unlike the more sophisticated women in his life, Jade knew she'd

not survive a collision with Zan's kind of loving. And there was no insurance against a broken heart.
Full Synopsis