Description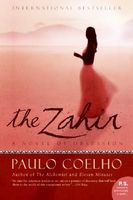 The narrator of The Zahir is a bestselling novelist who lives in Paris and enjoys all the privileges money and celebrity bring. His wife of ten years, Esther, is a war correspondent who has disappeared along with a friend, Mikhail, who may or may not be her lover.

Was Esther kidnapped, murdered, or did she simply escape a marriage that left her unfulfilled? The narrator doesn't have any answers, but he has plenty of questions of his own. Then one day Mikhail finds the narrator and promises to reunite him with his wife. In his attempt

to recapture a lost love, the narrator discovers something unexpected about himself.
Full Synopsis
About the Book
Published:

Sep-2005

(Hardcover)

Jul-2006

(Paperback)

Formats:

Print / eBook / Audio

Pages:

298

Purchase:
What Readers Are Saying
What do you think? Write your own comment on this book!
Write a Comment
The Zahir is the sixth stand-alone book by Brazil-born author, Paulo Coelho. It is translated from Portuguese by Margaret Jull Costa. Esther, a journalist and the wife of a best-selling author disappears from their home in Paris. Once the police release him from custody, dismissing the idea that he may have been responsible, he begins to wonder what has happened. He is soon convinced that she left him voluntarily, despite her occasionally dangerous job as a war correspondent. For two years, he remains obsessed about learning the reason she left him.

The first thing the narrator does is find himself a girlfriend. Then, suitably catered for sexually, he laments his inability to understand why his wife left him. As the narrator (eventually, after more than two years) sets about looking for her, the tale is filled with waffle about finding oneself, pure divine energy, spiritual journey, and energy of love flowing around the world. Much of it seems to be a vehicle for expressing the author's opinion about topics like wealth, sex and fidelity, marriage, and power.

From the narrator's history it would seem that this story is largely autobiographical. The author must have quite some charisma in person, because on paper his attitude and arrogance are unappealing. The dialogue is wooden (although perhaps this is a function of the translation); the prose is dull; much of the story feels contrived. This book might appeal to men of a Latin background who fancy themselves on a spiritual journey.