Description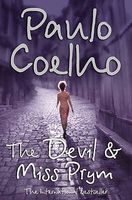 A stranger arrives at the remote village of Viscos, carrying with him a backpack containing a notebook and eleven gold bars. He comes searching for the answer to a question that torments him: Are human beings, in essence, good or evil? In welcoming the mysterious foreigner, the whole village becomes an accomplice to his sophisticated plot, which will forever mark their lives.

A novel of temptation by the internationally bestselling author Paulo Coelho, "The Devil and Miss Prym" is a thought-provoking parable of a community devoured

by greed, cowardice, and fear--as it struggles with the choice between good and evil.
Full Synopsis
About the Book
Published:

Jul-2006

Formats:

Print / eBook / Audio

Pages:

4

Purchase:
What Readers Are Saying
What do you think? Write your own comment on this book!
Write a Comment
2.5 stars

The Devil and Miss Prym is the third book in the On the Seventh Day series by Brazilian author, Paulo Coelho. It is translated into English by Amanda Hopkinson and Nick Caistor. As old Berta sits on her verandah watching, a stranger arrives in the town of Viscos, a man who comes to stay a week, and brings the devil. Chantal Prym, barmaid at the only hotel in town, is intrigued when the stranger wants to show her something in the woods.

The gold bar buried near the Y shaped stone would let Chantal leave town and get on with a decent life. The other ten bars, hidden elsewhere, would ease the pressures on the town. All she has to do to have that gold bar is to tell the town they need to commit a murder by the end of the week. If they do it, they get to keep the ten bars. But Viscos is a town of good people: surely, they would not?

There you have it: a totally unrealistic premise used as a vehicle for debate on Good and Evil. Viscos is a conveniently small, isolated town full of older people, no children. The oldest resident, widow Berta has, conveniently, no family or friends, and is visited only by the ghost of her late husband. The youngest, Chantal is, conveniently, an orphan, completely unattached. The stranger is, conveniently, rich, powerful, tortured and believes himself to be a good man.

The story is filled with anecdotes: parables heavy on message, moralistic lessons lacking subtlety, hypotheticals built on an artificial situation. Good and Evil feature frequently, angels and devils play important roles. The characters are stereotypes. The whole thing is tedious and a bit clumsy.