Description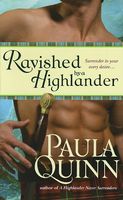 FORBIDDEN LOVE

Davina Montgomery is no ordinary English lady. For her own protection, she's been locked away from society, her true identity the Crown's most closely guarded secret. Until a shocking betrayal--and a bold rescue--land her in the arms of a fierce Highlander, a powerful warrior whose searing gaze and tantalizing touch awaken her body and soul.

UNDENIABLE DESIRE

As the firstborn son of a powerful Scottish laird, Robert MacGregor has no loyalty to the English throne, but he's not the kind of

man to leave a woman in distress, even if she is English. He vows to deliver Davina to safety, unharmed and untouched. Yet one stolen kiss leaves them both smoldering with desire...and desperate for more. With Davina's secret threatening to destroy his clan, Rob must choose between everything he holds dear and the one woman he can't live without.
Full Synopsis
About the Book
Published:

May-2010

Formats:

Print / eBook / Audio

Pages:

354

Purchase:
What Readers Are Saying
What do you think? Write your own comment on this book!
Write a Comment

AUTHOR: I really appreciate Paula's twist on history. She makes sure this book had plenty of dialogue and plenty of action and adventure.

SYNOPSIS: Davina's existence has been hidden away in St Christopher Abbey since she was born. Guarded by the King's soldiers. Rob rescues her when enemy soldier's attack and burn the convent to the ground. Davina's true love is not the soldier and protector that she has had for the past four years, Captain Edward Asher. While Asher loves her, she will fall into the loving hands of another. Enemy soldiers pursue to kill her. The story journeys not only into a safe haven but also a world of love.

FAVORITE PART: King journeys to Camlochlin

LEAST FAVORITE PART: Admiral Gilles's murderous ways and the people he hurts

SEX SCALE: Of the following five options: 1) NOT very descriptive and requires imagination' 2) WILL make you wiggle a little) 3) WISH it was me; 4) OH boy, do not have to use my imagination at all; 5) EROTICA and well over the top
******THIS BOOK GETS A THREE for "WISH it was me" rating because he is passionate, tender and loving******

YOU WILL LIKE THIS BOOK IF YOU LIKE: A man's who possessiveness knows no bounds. A woman being chased and being with the one and only man that seems to be able to protect her. Many characters that have such distinct personalities, they add so many flavors to the story.