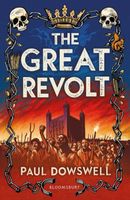 Newest Release
Bibliography:

20 Books - 1 Series

First Book:

May 2002

Latest Book:

August 2020

Rating:
Full Series List in Order
1 - Powder Monkey (Sep-2005)
2 - Prison Ship (Nov-2006)
3 - Battle Fleet (Nov-2007)
Book List in Order:
20

titles
---

---

Powder Monkey

An NCSS-CBC Notable Social Studies Trade Book for Young People

"Readers will be absorbed in the day-to-day life of young Sam, and his vivid tale will keep them on edge . . . Not for the faint of heart, this novel is a brilliant introduction....

---

Prison Ship

In March 1801, a mere six weeks after Sam Witchall's ship wrecked off the Cornish coast, his hopes for getting home are dashed when he is framed for theft and sent to Australia for punishment. The 15,000 mile, eight month journey is a hard and hor...

---

War Stories

Collects stories of events during the first and second world wars, covering land battles, the naval Battle of Jutland, the last voyage of the Bismarck, the cracking of the Enigma code, and the Manhattan Project....

---

---

---

Battle Fleet

Sam escapes death in Australia when the truth about his false conviction is finally revealed. But on the journey back to England he faces pirates and a terrible storm, before making the longed-for trip back up the river Thames. Finally reunited wi...

---

---

---

---

---

The Cabinet of Curiosities

When Lukas Declercq is orphaned, his uncle summons him to Prague, a refuge for Europe's greatest alchemists and natural philosophers. Uncle Anselmus is court physician to Rudolph II, the reclusive and unstable emperor. He is also curator of Rudolph's...

---

Sektion 20

Alex lives in East Berlin. The cold war is raging and he and his family are forbidden to leave. But the longer he stays the more danger he is in. Alex is no longer pretending to be a model East German, and the Stasi has noticed. They are watching ...

---

Eleven Eleven

Set during the final 24 hours before the armistice at 11 a.m. on 11th November 1918, the story follows a German storm trooper, an American airman and a British Tommy. Their destinies converge during the death throes of the first ever conflict to s...

---

Red Shadow

/ Historical

Russia, 1940. Fifteen-year-old Misha's life is about to transform when his father is offered a job in Stalin's inner circle. They move into a luxurious apartment in the Kremlin, but doubts about the glorious new Russia quickly surface. Misha real...

---

---

---

Wolf Children

It is July 1945, Hitler's Third Reich has fallen, and Berlin is in ruins. Living on the edge of survival in the cellar of an abandoned hospital, Otto and his ragtag gang of kids have banded together in the desperate, bombed-out city. The war may ...

---

True Stories of Ghosts

From a troubled spirit in Georgian England to vengeful spirit in 19th century Jamaica, to a haunted World War II U-Boat, this spine-chilling book tells the stories of documented hauntings, describing the events as they were reported at the time. Pa...

---

---

The Great Revolt

Thrilling historical adventure set during the English peasants' revolt of 1381, by Paul Dowswell, the author of Ausländer, and Wolf Children.

It's 1381 and the king, Richard II, has imposed a new tax on the people. In the village ...

---
Frequently Asked Questions (FAQ)
Paul Dowswell has published 20 books.
Paul Dowswell does not have a new book coming out soon. The latest book, The Great Revolt, was published in August 2020.
The first book by Paul Dowswell, World of Witches and Wizards, was published in May 2002.
Yes. Paul Dowswell has 1 series.