Description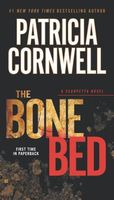 A woman has vanished while digging a dinosaur bone bed in the remote wilderness of Canada. Somehow, the only evidence has made its way to the inbox of Chief Medical Examiner Kay Scarpetta, over two thousand miles away in Boston. She has no idea why. But as events unfold with alarming speed, Scarpetta begins to suspect that the paleontologist's disappearance is connected to a series of crimes much closer to home: a gruesome murder, inexplicable tortures, and trace evidence from the last living creatures of the dinosaur age.

When she turns to those around her, Scarpetta finds that the danger and suspicion have penetrated even her closest circles. Her niece Lucy speaks in riddles. Her lead investigator, Pete Marino, and FBI forensic psychologist and husband, Benton Wesley, have secrets of their own. Feeling alone and betrayed, Scarpetta is tempted by someone from her past as she tracks a killer both cunning and cruel.

This is Kay Scarpetta as you have never seen her before. The Bone Bed is a must read for any fan of this series, or an ideal starting point for new readers.
Full Synopsis
About the Book
Published:

Oct-2012

(Hardcover)

Sep-2013

(Paperback)

Formats:

Print / eBook / Audio

Pages:

512

Age Level:

18 & up

Purchase:
What Readers Are Saying
What do you think? Write your own comment on this book!
Write a Comment

The Bone Bed is the twentieth book in the Kay Scarpetta series by American author, Patricia Cornwell. A paleontologist goes missing near a dinosaur bone bed in Alberta; a philanthropic widow's body is recovered from the Bay; a rich industrialist is on trial for the murder of his wife; and an alcoholic handyman dies after falling down the basement stairs. Somehow, all these events are connected, and Kay, Lucy, Marino and Benton manage to solve it all. At the same time, Lucy champions victims of animal cruelty and continues to hack into any computer she likes; Marino gets himself into hot water with Twitter; Kay has a rough time in the witness box; and Benton is the subject of unwanted attentions. This Scarpetta instalment has a fair plot which padded out with tedious, minute over-analysis of every interaction Scarpetta has with those around her. With some judicious editing (cutting most of the first two hundred pages would be a good start), this could have been a page-turner. The actual science and procedure is quite interesting and explores desiccated bodies, trace evidence, lip-reading software, blood-stained cloth and wireless internet. Betrayal by a staff member not adhering to Scarpetta's high standards is a theme that Cornwell has now employed well beyond its use-by date. Scarpetta's default mood seems to be angry, annoyed or snarky. In Australia or Britain, she would be told to stop her whinging. The title is a little misleading as there is very little in the actual story about the bone bed. Will readers be prepared to invest more precious reading time and money in the next of the series, Dust? Unlikely if Cornwell sticks to the same formula. Once again, far too wordy.