Description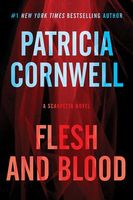 It's Dr. Kay Scarpetta's birthday, and she's about to head to Miami for a vacation with Benton Wesley, her FBI profiler husband, when she notices seven pennies on a wall behind their Cambridge house. Is this a kids' game? If so, why are all of the coins dated 1981 and so shiny they could be newly minted? Her cellphone rings, and Detective Pete Marino tells her there's been a homicide five minutes away. A high school music teacher has been shot with uncanny precision as he unloaded groceries from his car. No one has heard or seen a thing.
/>
In this 22nd Scarpetta novel, the master forensic sleuth finds herself in the unsettling pursuit of a serial sniper who leaves no incriminating evidence except fragments of copper. The shots seem impossible, yet they are so perfect they cause instant death. The victims appear to have had nothing in common, and there is no pattern to indicate where the killer will strike next. First New Jersey, then Massachusetts, and then the murky depths off the coast of South Florida, where Scarpetta investigates a shipwreck, looking for answers that only she can discover and analyze. And it is there that she comes face to face with shocking evidence that implicates her techno genius niece, Lucy, Scarpetta's own flesh and blood.
Full Synopsis
About the Book
Published:

Nov-2014

Formats:

Print / eBook / Audio

Pages:

400

Purchase:
What Readers Are Saying
What do you think? Write your own comment on this book!
Write a Comment

Flesh and Blood is the twenty-second book in the Kay Scarpetta series by American author, Patricia Cornwell. Kay and Benton are about to leave for a vacation in Florida when Kay spots seven shiny 1981 pennies on the back wall. There's a shooting nearby, and Marino turns up quick as a flash to take Kay to the scene. Apparently, shooting bears similarities to two in New Jersey. On the way, Marino has an argument with a gardener. A teenage girl drowns, a nasty insurance agent hangs around a lot, a young tennis player confesses. Aaand from there the plot just gets more and more convoluted.

Things to like about Scarpetta 22:
• It's much shorter than previous books (<400 pages vs 500+pages)
• There is a bit less mind-numbingly boring and mostly irrelevant detail (a bit less, not a lot less)
• There are some interesting facts about ballistics and bullets to the neck
Things to dislike about Scarpetta 22:
• It's all still about Kay. Everything is about how it affects Kay, every word, gesture, facial expression, painstakingly (or painfully) analysed for meaning. (yawn)
• Not a lot of medical examining going on
• The same old secrets and paranoia "Deceit. Lucy has her own agenda and she and Benton have been talking. She's lying to me and so is he"
• Same unlikeable characters: paranoid Kay, aloof Benton, obnoxious Marino, lawless Lucy. Bryce is the only breath of fresh air.
• Kay is still unhappy with the behaviour of her staff (ho hum)
• Dialogue still wooden
• Same tired old plot: a show-off serial killer out to get Kay/Benton/Lucy/Marino
• Cliff hanger ending: gee, thanks but no thanks all the same
Hmm, not looking good for Scarpetta 23. Yep, it's a pretty easy decision to make: Bye bye Kay.