Description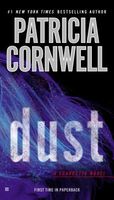 From the world's number-one bestselling crime writer comes the extraordinary new Kay Scarpetta novel.

Massachusetts Chief Medical Examiner Kay Scarpetta has just returned from working one of the worst mass murders in U.S. history when she's awakened at an early hour by Detective Pete Marino.

A body, oddly draped in an unusual cloth, has just been discovered inside the sheltered gates of MIT and it's suspected the identity is that of missing computer engineer Gail Shipton, last seen the night before at a trendy Cambridge bar. It appears she's been murdered, mere weeks before the trial of her $100 million lawsuit against her former financial managers, and Scarpetta doubts it's a coincidence. She also fears the case may have a connection with her computer genius niece, Lucy.

At a glance there is no sign of what killed Gail Shipton, but she's covered with a fine dust that under ultraviolet light fluoresces brilliantly in three vivid colors, what Scarpetta calls a mineral fingerprint. Clearly the body has been posed with chilling premeditation that is symbolic and meant to shock, and Scarpetta has reason to worry that the person responsible is the Capital Murderer, whose most recent sexual homicides have terrorized Washington, D.C. Stunningly, Scarpetta will discover that her FBI profiler husband, Benton Wesley, is convinced that certain people in the government, including his boss, don't want the killer caught.

In Dust, Scarpetta and her colleagues are up against a force far more sinister than a sexual predator who fits the criminal classification of a "spectacle killer." The murder of Gail Shipton soon leads deep into the dark world of designer drugs, drone technology, organized crime, and shocking corruption at the highest levels.

With unparalleled high-tension suspense and the latest in forensic technology, Patricia Cornwell once again proves her exceptional ability to surprise -- and to thrill.
Full Synopsis
About the Book
Published:

Nov-2013

(Hardcover)

Sep-2014

(Paperback)

Formats:

Print / eBook / Audio

Pages:

480

Age Level:

18 & up

Purchase:
What Readers Are Saying
What do you think? Write your own comment on this book!
Write a Comment

just another boring, no action story in a series that started out so exciting and great. I keep hoping that the next one will be better
Dust is the twenty-first book in the Kay Scarpetta series by American author, Patricia Cornwell. A few days before Christmas, Kay is woken at 4am by Pete Marino, no longer in her employ but back with the Police Force of Cambridge. A body, posed, wrapped in a white sheet, on the playing fields at nearby MIT. From the photos Marino sends her, Kay immediately sees features common to several victims of a serial killer, cases in Washington DC being investigated by the FBI, about which she has learned from Benton. Social media are already buzzing with speculation, and then Benton is dropped in by Lucy's helicopter, a surprise return from DC.

For readers who have not yet, after twenty instalments, abandoned Kay Scarpetta, it's more of the same: Pete Marino continues to be his same, obnoxious self; Lucy, lawless Lucy, still exempting herself from laws the rest of America has to obey, and ignoring any person's right to privacy; Benton, silent, enigmatic and deep, when he chooses to share at all; and Kay, superior as always, persists with her self-righteous whining at every opportunity.

There is actually a decent murder mystery in there somewhere, and, if only it were not excessively diluted by the minutiae of everyday life, this could have been an enjoyable read. There is plenty of politics, paranoia and corruption, and some interesting information on trace evidence and autopsy, but the endless repetition blunts the effect. Why Cornwell chooses to pad out her stories with all this mundane detail (Kay: I remember to take off my coat and I place it in my lap) is perhaps more of a mystery than the identity of the serial killer.

The banter between the characters, which might be fun if they were still somewhat appealing (they no longer are), sounds wooden. Seriously, who would actually say "I'll get the evidence to the labs expeditiously"? Cornwell takes almost five hundred pages to painstakingly (some would say painfully) detail about twenty hours of Kay Scarpetta's life. No doubt there are still die-hard fans who pay full retail for each hardback as it appears, but by this time many readers will be refusing even charity store prices or library copies, and saving their precious reading time for something better.