Description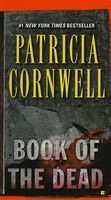 The Book of the Dead is the morgue kg, the ledger in which all cases are entered by hand. For Kay Scarpetta, however, it is about to acquire a new meaning.

Starting over with a unique private forensic pathology practice in the historic city of Charleston, South Carolina, seems like the ideal situation for Scarpetta and her colleagues, Pete Marino and her niece, Lucy. But then come the deaths ..

A sixteen-year-old tennis star, fresh from a tournament win in Charleston, is found nude and mutilated near Piazza Navona in Rome. The body of an abused young boy is dumped in a desolate marsh. A woman is ritualistically murdered in her multimillion-dollar beach home. Meanwhile, in New England, problems with a prominent patient at a Harvard-affiliated psychiatric hospital begin to hint at interconnections among the deaths that are as hard to imagine as they are horrible.

Scarpetta has dealt with many brutal and unusual crimes before, but never a string of them as baffling, or as terrifying, as the ones facing her now. Before she is through, that book of the dead will contain many names -- and the pen may be poised to write her own.
Full Synopsis
About the Book
Published:

Formats:

Print / eBook / Audio

Pages:

511

Age Level:

18 & up

Purchase:
What Readers Are Saying
What do you think? Write your own comment on this book!
Write a Comment

BOOK OF THE DEAD by Patricia Cornwell is 611 pages in paperback format. It is #15 in The Kay Scarpetta Series.


I really didn't like the writing style in this book. I almost gave up on it, but because I do like Kay Scarpetta I did finish it. Nothing in the book flowed for me. I thought it jumped around way too much. The serial killer wasn't given much of a story other than his killing spree. Usually every person has a purpose and I just didn't feel this in this book.

I am going to read the next one though as two main characters seem to be going away. I am not sure if that is going to be for good or it will be an ongoing scenario. Bull was introduced in this book and I can see where he will be the new protector of Kay Scarpetta. She seems to like him and will probably be his second mother. I believe he could have an interesting role in the books to come.

It will also be interesting to see if she finally fits into her neighborhood in Charleston. Her neighbors don't seem to like her very much now. That could lead to some new stories as well.

I am giving this 3.5 stars out of 5. I always like the forensic details in these books and am amazed at how technology has evolved over the years.

BUY NOW: Conniesbookshelf.com Paperback $3.25

BUY NOW: Conniesbookshelf.com Hardcover $3.75
This was such a big disappointment to me after reading all of the previous books in this series. It was almost impossible to keep up with the way the story jumped from one thing to another without warning. It was like I was reading the screen play to one of those cheap, scarey movies they make for the teenagers. Just no real plot and story line. Hopefully the next one will be better.