Description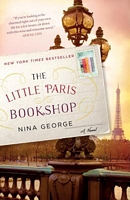 Monsieur Perdu can prescribe the perfect book for a broken heart. But can he fix his own?

Monsieur Perdu calls himself a literary apothecary. From his floating bookstore in a barge on the Seine, he prescribes novels for the hardships of life. Using his intuitive feel for the exact book a reader needs, Perdu mends broken hearts and souls. The only person he can't seem to heal through literature is himself; he's still haunted by heartbreak after his great love disappeared. She left him with only a letter, which he has never opened.
/>
After Perdu is finally tempted to read the letter, he hauls anchor and departs on a mission to the south of France, hoping to make peace with his loss and discover the end of the story. Joined by a bestselling but blocked author and a lovelorn Italian chef, Perdu travels along the country's rivers, dispensing his wisdom and his books, showing that the literary world can take the human soul on a journey to heal itself.

Internationally bestselling and filled with warmth and adventure, The Little Paris Bookshop is a love letter to books, meant for anyone who believes in the power of stories to shape people's lives.
Full Synopsis
About the Book
Published:

Jun-2015

(Hardcover)

Mar-2016

(Paperback)

Formats:

Print / eBook / Audio

Pages:

320

Purchase:
What Readers Are Saying
What do you think? Write your own comment on this book!
Write a Comment
"To carry them within us – that is our task. We carry them all inside us, all our dead and shattered loves. Only they make us whole. If we begin to forget or cast aside those who we've lost, then … then we are no longer present either"

The Little Paris Bookshop is the seventh book by German journalist, teacher and author, Nina George (written under that name). Jean Perdu is fifty years old. He lives in an apartment building with an interesting (and often eccentric) collection of other tenants, a place where "The snatches of life that could be overheard in the house at number 27 Rue Montagnard were like a sea lapping the shores of Perdu's silent isle".

Perdu is the owner of The Literary Apothecary, a book barge on the River Seine in Paris. His customers (or perhaps they are patients) benefit from his unique skills, his extraordinary insight and intuition, in dispensing just the right literary remedy for "countless, undefined afflictions of the soul". He advises one: "With all due respect, what you read is more important in the long term than the man you marry, ma chère Madame"

But the arrival of a new tenant, the heart-broken Catherine, sets in motion a train of events that see Perdu opening a room in his apartment (and in his heart) that has been sealed for twenty-one years. Soon after, the contents of a hitherto unopened letter are the impetus for great changes: Perdu abruptly unmoors his barge and sets off, completely unprepared, down the Seine towards Provence, to face what he has been denying for such a long time. He is accompanied by a publicity-shy novelist, two cats (Kafka and Lindgren) and later a lovelorn Italian and an impulsive book guild chairwoman.

Perdu's narrative is supplemented by entries in Manon's Travel Diary and letters or cards that Jean writes to Catherine back in Paris. As the story unfolds, Perdu shares proposed entries for his "Great Encyclopedia of Small Emotions" as well as some profound observations on human nature: "The trouble is that so many people, most of them women, think they have to have a perfect body to be loved. But all it has to do is be capable of loving – and being loved"; and quite a lot of words of wisdom: "Memories are like wolves. You can't lock them away and hope they leave you alone" being one example.

In this best-selling novel, George touches on love and heartbreak, grief and denial, and the importance of friends. She wraps her heart-warming and uplifting tale in some truly gorgeous descriptive prose: "The Milky Way was a streak of light, a vapour trail of planets overhead. The silence was almost overpowering, and the blue depths of the night sky seemed to suck them in" and "It is different every day, and the gulls screech like little kids on stormy days and like heralds of glory on sunny ones. 'Fine! Fine! Fine! they call" and "Sometimes you're swimming in unwept tears and you'll go under if you store them up inside" are just a few.

Her characters are appealing, her plot takes a few twists and there are even small mysteries and tiny moments of suspense. Readers who enjoyed The Collected Works of A.J. Fikry are very likely to find this novel equally delightful. Flawlessly translated by Simon Pare, it also features a section of delicious-sounding Provencal recipes and Jean Perdu's Emergency Literary Pharmacy, five pages that are both funny and perceptive. Funny, moving and uplifting.
With thanks to The Reading Room and Hachette for this copy to read and review.