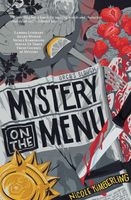 Newest Release
Bibliography:

23 Books - 3 Series

First Book:

January 2008

Latest Book:

May 2023

Rating:
Full Series List in Order
1 - Primal Red (Feb-2009)
2 - Baby, It's Cold Outside (Jan-2010)
3 - Black Cat Ink (Nov-2010)
4 - One Man's Treasure (Apr-2012)
1 - Ghost Star Night (Aug-2009)
2 - Heir of Starlight (Jun-2013)
1 - Tangle (Mar-2008)
2 - Tangle Girls (Jan-2009)
Book List in Order:
23

titles
---

Tangle

Eleven stories of magic, mystery and the fantastic future, all featuring gay heroes. Swordsmen, cyborgs, magicians, ghosts, psychic lovers and enchanted lords fill this anthology with adventure, laughter and passion.This anthology features Spectrum A...

---

Tangle Girls

Amazons, assassins, spacefarers, shapeshifters, fairies and forbidden lovers fill this anthology with adventure, humor and passion. Raccoon Skin: Young Sophia discovers a wounded eagle in her parents' backyard but when the resplendent creature transf...

---

---

---

---

---

---

The Red Thread of Forever

/ General Fiction

Folklore researcher and PhD candidate Hank Caldwell has a problem. He's come to Japan to get information for his book on supernatural creatures called yokai. Along the way he discovers that yokai are not only real, but one of them is determined to ma...

---

---

---

Irregulars

/ General Fiction

It's a secret international organization operating in cities on every continent. It polices relations between the earthly realm and those beyond this world, enforcing immigration laws, the transfers of magical artifacts, and crimes against humanity...

---

---

---

---

Heir of Starlight

Trust is the only light that will guide them home. It's been seven years since Karl Alton sublet his human body and let his soul be transferred to an orangutan. Now that the contract is up, Karl is ready to live a less hairy existence. Except his...

---

The Bellingham Mystery Series Volume 1

Peter Fontaine just wants to break a juicy story and maybe win an award for his intrepid journalism. But all too soon his instinct for prying and his fantastical turn of mind conspire to draw him deep into murder and mystery.The Bellingham Mystery Se...

---

Magic and Mayhem

Everyone deserves to see themselves in stories, to see themselves get a happy ending. For the past few years, Gay Romance Northwest (GRNW) has helped to see those stories reach more of the LGBTQ community, and gain traction in libraries and beyond. F...

---

Magically Delicious

/ Science Fiction / Fantasy

Return to the world of Irregulars!Occult attacks against NIAD agents aren't remotely Keith Curry's department. But when his lover, Gunther, is assaulted, Keith refuses to just sit back and fill out paperwork. He's on the case -- even if that me...

---

Pentimento Blues

/ General Fiction

The Final MysteryNow that small-town reporter Peter Fontaine has gotten hitched to the man of his dreams, he thinks his days of solving crimes are over. But after a decades-old secret is revealed, a dead body is found and Peter's husband Nick is at...

---

---

Sea of Stars

/ Fantasy

Desire. Destruction. Destiny.Thomas Myrdin knows that intrigue is part of life at court, but that doesn't make his king's betrayal any easier to take. Yet heartbreak troubles him less than the apocalyptic visions that haunt him. Fiery pre...

---

Grilled Cheese and Goblins

Vampire Hunter. Leprechaun Fighter. Food Inspector. Keith Curry has his work cut out for him.NATO's Irregulars Affairs Division is a secret organization operating in thousands of cities around the globe. Its agents police relations between the earthl...

---

The Bellingham Mystery Series Volume 2

Four years ago, Peter Fontaine made a name for himself as Bellingham, Washington's premiere investigative reporter. Since then he's got an award, a cat, and a good-looking artist to come home to every night.Nick Olson, Peter's long-suffering lover ha...

---

Mystery on the Menu

/ Contemporary Romance

After a steady diet of big city trouble Chef Drew Allison has relocated to the tiny island town of Orca's Slough to get a taste of the laid-back artisanal lifestyle. But when he discovers his bartender dead in his basement, he faces a far great...

---
Award-Winning Books by Nicole Kimberling
Turnskin
2008 Lambda Literary Award -- Sci-Fi/Fantasy/Horror
Frequently Asked Questions (FAQ)
Nicole Kimberling has published 23 books.
The next book by Nicole Kimberling, Mystery on the Menu: A Three-Course Collection of Cozy Mysteries, will be published in May 2023.
The first book by Nicole Kimberling, Turnskin, was published in January 2008.
Yes. Nicole Kimberling has 3 series.