Description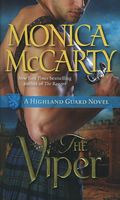 The war for Scotland's sovereignty rages on -- as Robert the Bruce is crowned king and the Highland Guard, his elite fighting force of legendary warriors, battle for land . . . and love.

Prized for his snakelike stealth and deadly strikes, Lachlan "Viper" MacRuairi is a warrior to enlist but not to trust. His only loyalty is to his purse, his indifference sealed by bitter betrayal. All that changes when Lachlan is tasked to protect and deliver Bella MacDuff to the king's coronation -- and the proud, lushly sensual countess unwittingly challenges him to his greatest battle yet: to love again.

Passionate and devoted, Bella has defied Britain's king and her own husband to place the crown on Bruce's head, and for this she pays a terrible price: Losing her daughter and her freedom to her husband's vengeance. Imprisoned with barbaric cruelty, she vows to reclaim her child, even if it means selling her soul -- and her body -- to a dark, lethal warrior whose eyes glint like steel, but who makes her skin tingle and her breath race. Together they embark on a rogue mission with sinister twists and turns that threatens not only Bella's gamble to save her daughter -- but also her heart.
Full Synopsis
About the Book
Published:

Oct-2011

Formats:

Print / eBook / Audio

Pages:

406

Purchase:
What Readers Are Saying
What do you think? Write your own comment on this book!
Write a Comment

Viper was a bad ass so that was good. The reason I gave it 3 stars was mainly because of Bella. She was a dishrag really. It showed she had spirit and fire but all they had to do every time was mention her daughter and she would do anything they said. The jailer would have done had her and so would have everyone else with that tool to make her bend to their will. So I felt this book contradicted itself over and over in her character. I loved her earlier books in this series but not really this one. Cant wait to read "The Saint".