Description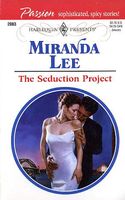 The wanting...

When Molly transformed herself into a striking redhead, the entire male population of Sydney stood up and took notice! But her new look was for Liam Delaney's benefit alone; she loved him and she wished he felt the same about her.

However it was passion that Molly inspired in Liam! And the fact that he thought she had another male admirer only made him desire her more. Though Molly had never rushed into a physical relationship with any man, perhaps the time had come for seduction? Madeover Molly might

be, but deep down inside the was just an inexperienced virgin...
Full Synopsis