Description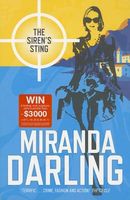 Death wears vintage Pucci as our stylish, shadowy, and dangerous agent comes face to face with modern piracy in a bid to stay one step ahead of some of the world's most dangerous men
She was not an action woman: she could not run very fast; she favoured ballet slippers over combat boots, never swore and still suffered from nightmares; she did not enjoy confrontation of any kind. She was reluctant to face risk, and it was a quality that made her very good at her job. Her art lay in her ability to pass unnoticed, to slip in and

out of the cracks of life, to be quietly invisible.


Aboard a luxury yacht as the minder of the world's greatest—and most temperamental—opera star, Stevie Duveen manages to thwart a pirate attack off the coast of Somalia, but soon realizes the attack is merely one salvo in a ruthless campaign of terror. Other vessels are being hijacked, and ransoms in the multimillions are being demanded as shipping lines and insurance companies run scared. Soon Stevie is undercover to do a threat assessment on the young son of Vaughan and Clumence Krok—who run the world's most powerful army of mercenaries. Posing as just another jet-setting party girl, Stevie cruises aboard the Kroks' mega-yacht, Hercules, surrounded by arms dealers, aristocrats, and billionaires. The action swings from the sun-kissed marinas of the Mediterranean to diva season in Venice, through the oilfields of Azerbaijan and on to the billionaires' playgrounds of Spain, but Stevie soon uncovers more questions than answers: Is the Kroks' son really in danger? What secret deal is Krok brokering? How is he connected to the pirate scourge? And why is someone trying to kill her? At her discreet and dangerous best, Stevie must fight to save everything she holds dear as she finds herself at the heart of a deadly double game.
Full Synopsis
About the Book
Published:

Dec-2013

Formats:

Print / eBook

Pages:

350

Purchase: