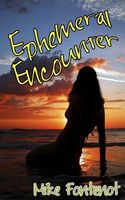 Newest Release
Bibliography:

5 Books - 1 Series

First Book:

July 2007

Latest Book:

September 2015

Rating:
Full Series List in Order
1 - Solution Squared (May-2009)
2 - Recalculation (Jul-2011)
Book List in Order:
5

titles
---

Solution Squared

"In the world of espionage... the only way to survive, is to learn not to blink.For a brief time, they were the CIA's secret weapon - wreaking unexplained havoc on the intelligence agencies of the world. Then, in what proves to be their most intricat...

---

Recalculation

RECALCULATION, the sequel to SOLUTION SQUARED, is the next progression in the escapades of identical twin sisters Whitney and Courtney Bergstrom - a pair of would be 'girls next door' whose devious, deceptive, and slightly sinister behavior, lends cr...

---

The Final Equation

"…in this business, at some point, everyone dies." Carl Santos CIA Station Chief, IstanbulTwin sisters Courtney and Whitney spent their entire adult lives traveling an inherently dangerous path - sometimes together, sometimes apart. It's a path...

---

Ephemeral Encounter

Twenty-four, and famous – in the blink of an eye. One second, your basic university student – the next, her face is recognized by everyone in Great Britain. Not something easily dealt with, by a farm-raised, country girl, from Wales. When her tum...

---
Frequently Asked Questions (FAQ)
Mike Fontenot has published 5 books.
Mike Fontenot does not have a new book coming out soon. The latest book, Ephemeral Encounter, was published in September 2015.
The first book by Mike Fontenot, Aka, was published in July 2007.
Yes. Mike Fontenot has 1 series.