Description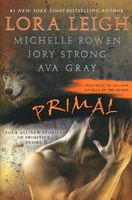 WHEN DESIRE CANNOT BE CONTROLLED... WHEN PERSONAL WILL IS OVERPOWERED BY CARNAL CRAVINGS...WHEN ONLY ONE FEARLESS IMPULSE FEEDS YOU, BODY AND SOUL...

You can't deny it. It's something primal.

Set in the same dark, seductive corners as Michelle Rowen's Nightshade universe...an innocent young woman is drawn into the dangerous world of a dhampyr whose love could be the death of her.