Description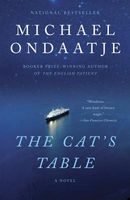 In the early 1950s, an eleven-year-old boy in Colombo boards a ship bound for England. At mealtimes he is seated at the "cat's table" -- as far from the Captain's Table as can be -- with a ragtag group of "insignificant" adults and two other boys, Cassius and Ramadhin. As the ship makes its way across the Indian Ocean, through the Suez Canal, into the Mediterranean, the boys tumble from one adventure to another, bursting all over the place like freed mercury. But there are other diversions as well: one man talks with them about jazz and women, another opens the door to the world of literature. The narrator's elusive, beautiful cousin Emily becomes his confidante, allowing him to see himself "with a distant eye" for the first time, and to feel the first stirring of desire. Another Cat's Table denizen, the shadowy Miss Lasqueti, is perhaps more than what she seems. And very late every night, the boys spy on a shackled prisoner, his crime and his fate a galvanizing mystery that will haunt them forever.

As the narrative moves between the decks and holds of the ship and the boy's adult years, it tells a spellbinding story -- by turns poignant and electrifying -- about the magical, often forbidden, discoveries of childhood and a lifelong journey that begins unexpectedly with a spectacular sea voyage.
Full Synopsis
About the Book
Published:

Oct-2011

(Hardcover)

Jun-2012

(Paperback)

Formats:

Print / eBook / Audio

Pages:

269

Purchase:
What Readers Are Saying
What do you think? Write your own comment on this book!
Write a Comment
Michael Ondaatje is a wonderful writer. He has written some wonderful classics such as The English Patient and Anil's Ghost. This book too was nominated for a 2011 Giller Prize. I expected the book to be lyrically written with wonderfully drawn characters, and it did not disappoint. This is a coming of age novel and the story is of life aboard a ship for an eleven year old boy who is going from Sri Lanka to England to be with his mother. The story is set in the 1950's, but Mr. Ondaatje takes back and forth from that time to the present day, when the boy is now a man. At first I thought the book was autobioghraphical, but Mr. Ondaatje said that it is not and is a work of fiction, but his writing makes it so realistic, and the young boy's name is Michael too. Strange things happen on this voyage of three weeks, things that will forever change and shape young Michael and his two young friends who are also on this voyage. We meet some truly wonderful characters through the eyes of these three boys. And we also get to see how these characters and the happenings on this ship forever changed the lives of the three young protaganists.