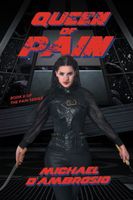 Newest Release
Bibliography:

11 Books - 2 Series

First Book:

January 2002

Latest Book:

November 2022

Rating:
Full Series List in Order
1 - Fractured Time (2002)
2 - Twisted Fate (Oct-2004)
3 - Dark Horizon ()
1 - The Eye Of Icarus (Mar-2008)
2 - Dangerous Liaisons (Oct-2008)
3 - The Devil's Playground (Jan-2010)
4 - Galaxy of the Damned (Jan-2012)
Book List in Order:
11

titles
Fractured Time

Possibly the most anticipated GRG product ever, Sengoku: Chanbara Roleplaying in Feudal Japan is an adventurous game set in 16th century Japan, where honor is more valuable than gold and shame worse than death! The game is inspired by Japanese histor...

---

---

The Eye Of Icarus

Will Saris, an ambitious and young officer in the Space Fleet, embarks on his first mission alone with one directive - be discrete. He disobeys that directive and sets off a chain of events that not only change his life but much of the universe as we...

---

Dangerous Liaisons

When King Tenemon's demise leaves the alien alliance in shambles, Will is betrayed by an unlikely team member who is orchestrating a major coup. Will and the mega ship Leviathan with its perfect power source are the targets of an enemy more dangero...

---

The Devil's Playground

The war with the Weevil takes on epic proportions as Will, Shanna and the rest of the crew try to stave off a major offensive when three new formidable opponents surface abroad and at home. Will's diplomatic skills fail him as he is forced to be the ...

---

Night Creeps

Adult Horror - Sheriff Justin Bowles' nightmare is only beginning as he has witnessed unspeakable horrors in the parking lot of a local bar. He must find a way to fight the aliens and their mutants, but are they the only enemy he needs to fear?...

---

Galaxy of the Damned

"We're coming in hot. Stay to my left and we'll cover you," ordered Will. "Forget it. The Widow Maker's firing system is damaged. They can only target you in 'manual', Will. She's all yours if you want her," Arn declared proudly. "Tell Severin that I...

---

---

Night Creeps 2

An adult horror story. The crew of Night Creeps 2 find that mutation isn't always a bad thing as Johnny's new power leads to seductive adventures that even make their alien ally blush. Suzie B's promiscuous adventures in Night Creeps 1 are nothing co...

---

---

Queen of Pain

Marina's attempt to lead a normal life falls short when her kingdom is besieged by dangerous mercenaries hired to bring her under the control of a huge corporation. Her return to a life of violence against a plethora of enemies, despite guidance from...

---

Dark Horizon

"For now, I'll settle for the abbreviated version. What's going on?"

"All right. We're involved in an intergalactic war and it's not going too well."

"Why didn't you mention that before?"

"We have ignored your world for centuries...

---
Frequently Asked Questions (FAQ)
Michael D'Ambrosio has published 11 books.
Michael D'Ambrosio does not have a new book coming out soon. The latest book, Queen of Pain, was published in November 2022.
The first book by Michael D'Ambrosio, Fractured Time, was published in January 2002.
Yes. Michael D'Ambrosio has 2 series.