Description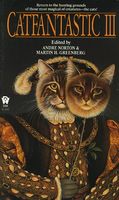 THE SECRET WORLD OF CATS
is about to be revealed in this all-new collection of tales about those mysterious felines who rule the animal and human kingdoms. Whether they are intently stalking their prey, making humans cater to their every whim, or communing among themselves, these furry beauties are always in control of everything around them. Now, with the aid of such human scribes as Andre Norton, Mercedes Lackey, Charles de Lint, Clare Bell, Ardath Mayhar, and Elizabeth Ann Scarborough, cat lovers everywhere can prowl their world and share

in their adventures. From a regal Persian able to hear as much with his mind as with his ears...to a shipwrecked cat who just might rewrite the future of Tahiti...to a musician who undergoes a magical transformation...to a wizard-snared feline who finds an ally from beyond the mortal realm...here are twenty original stories to capture the heart and imagination of anyone who has ever been owned by a cat.
Full Synopsis