Description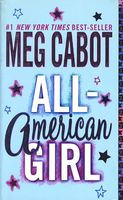 Top Ten Reasons Samantha Madison is in Deep Trouble
10. Her big sister is the most popular girl in school

9. Her little sister is a certified genius

8. She's in love with her big sister's boyfriend

7. She got caught selling celebrity portraits in school

6. And now she's being forced to take art classes

5. She's just saved the president of the United States from an assassination attempt

4. So the whole world thinks she is a hero

3. Even though Sam knows she is far, far from being a hero

2. And now she's been appointed teen ambassador to the UN

And the number-one reason Sam's life is over?
1. The president's son just might be in love with her
Full Synopsis
About the Book
Published:

Aug-2002

(Hardcover)

Aug-2003

(Paperback)

Formats:

Print / eBook / Audio

Pages:

398

Age Level:

11-15

Purchase:
What Readers Are Saying
What do you think? Write your own comment on this book!
Write a Comment

I like to read young adult books on occasion. I think I read more in my teenage years than at any other time in my life. That's probably why I like to go back and revisit the angst of those early reads. Meg Cabot has done a great job of providing plenty of teen angst in her various series for young adults -- the Princess Diaries, the Mediator, 1-800-Where-R-You -- and this first book in the All-American Girl series is a lot of fun as well as angsty.

Samantha Madison accidentally saves the President from an assassin and ends up with the President's son for her boyfriend. All of a sudden she's no longer the geeky girl but the most popular girl in school. How she deals with this is not particularly new, but it still kept me reading. I finished the book in 2 sittings.

The book is first person and the voice is almost identical to the Princess Diaries books, which actually was the only real negative I had with the book. Meg Cabot usually provides a wide range of feisty teen heroines and so I was surprised at how similar to the Princess Diaries this book was. It is, however, an older book and if I'd read it before I'd read the 10 or so Princess Diaries books, I might have enjoyed it more. I plan on reading the sequel -- Ready or Not -- bu not anytime soon...

Overall, I recommend this book to those who like really light reading. A good way to spend a couple of mindless hours.