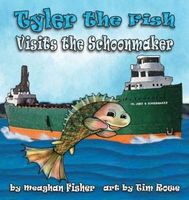 Newest Release
Bibliography:

14 Books - 1 Series

First Book:

November 2009

Latest Book:

October 2019
Full Series List in Order
1 - Tyler the Fish Saves Lake Erie (Mar-2014)
2 - Tyler the Fish and Marty the Sturgeon (Sep-2015)
3 - Tyler the Fish and the Lake Erie Bully (Sep-2016)
4 - Tyler the Fish Visits the Lorain Lighthouse (May-2017)
Book List in Order:
14

titles
Sadie the Skunk

Sadie the skunk thinks she is a cat until a sibling kitten points out Sadie's differences from the rest of the family. When Sadie asks her parents about it, they answer all her questions, telling her they found her as a baby alone in the forest and b...

---

Lars the Monkey Flies a Waco Airplane

When he was little, Lars the monkey loved taking rides in historic WACO airplanes at WACO Field in Troy, Ohio. Now that he''s older, Lars wants to learn to fly a WACO airplane himself so he can share his love for flying with little passengers of his...

---

---

Giuseppe's Famous Pizza Pies

Giuseppe is a pizza chef in Rome, and customers come from far and wide to watch his antics and get a taste of his famous pies. But what will he do when his trusty vendor's cart breaks down? With help from a new friend, he might just find a solution!...

---

Mousekabitz

Mousekabitz has it made. He's got a safe place to live, a comfy bed, and plenty of food. That is, until he's discovered by the human family he lives with. Now even the lazy dog, Merlin, is after him! Chased from his home, Mousekabitz runs into an unf...

---

Tyler the Fish Saves Lake Erie

Tyler is a young bass who lives in Lake Erie and loves playing and exploring with his friends. One day, a game of Fish Tag takes him and his friend Jimmy into some unfamiliar waters. They're a long way from home, and even worse, the water is brown! W...

---

If I Could Pull the Moon from the Sky

What would you do if you could pull the moon from the sky? One little boy has a million ideas! He would play with it at school, then take it for a haircut, and maybe they would eat a moon pie together at lunch. That would be fun...but pulling the moo...

---

Owlie Learns to Fly

It's flying day! Today, all of Mother Owl's babies will learn how to fly. His brothers and sisters are excited, but Owly is a little nervous. Each time he steps to the edge, he backs off and lets someone else go instead. Finally, he's the last owl le...

---

The Strawberry Festival

It's time for the Strawberry Festival! It's always the best weekend of the year. Kevin and Emma Rose are excited to go downtown and join in the festivities with their Mama and Daddy. What will their favorite parts be? The Bed Races? The parade? The f...

---

---

Tyler the Fish and Marty the Sturgeon

Tyler and his friend Jimmy are enjoying a friendly game of Fish Tag, when suddenly the waters grow dark and all the fish around them start swimming for their lives. They turn to see the biggest, scariest fish they've ever seen. Although, when they sp...

---

Tyler the Fish and the Lake Erie Bully

It's Tyler's first day of school, and he's excited. There's so much to look forward to! He has a great day up until lunchtime, when a mean trout fish demands Tyler's lunch. That night, Tyler's mother explains bulling to Tyler and how it i...

---

Tyler the Fish Visits the Lorain Lighthouse

Tyler is very excited! Today he is going on his first school field trip with his classmates to learn all about Lorain Lighthouse in Lorain, Ohio. On the trip, Tyler and his classmates learn all about the important role of the lighthouse and its histo...

---

Oscar Goes to School

Oscar is Emma Rose's fun and friendly tabby cat who really wants to go to school! One day, Oscar sneaks his way into Emma Rose's bookbag and has a day full of school adventures! Oscar gets to ride the school bus, go to lunch, art class, and even ...

---

Tyler the Fish Visits the Schoonmaker

Tyler the adventurous Lake Erie Bass is back with his best friend Jimmy the Rainbow Trout. Join them on a class field trip to visit The National Museum of the Great Lakes on the Maumee River in Toledo!Come along with Tyler and his class as they learn...

---
Frequently Asked Questions (FAQ)
Meaghan Fisher has published 14 books.
Meaghan Fisher does not have a new book coming out soon. The latest book, Tyler the Fish Visits the Schoonmaker, was published in October 2019.
The first book by Meaghan Fisher, Sadie the Skunk, was published in November 2009.
Yes. Meaghan Fisher has 1 series.