Description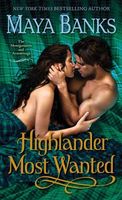 Maya Banks, the New York Times bestselling author of erotic romance, romantic suspense, and contemporary romance, has captivated readers with her steamy Scottish historical novels, perfect for fans of Julie Garwood. In Highlander Most Wanted, a reclusive woman content to live in the shadows shows a Highland warrior the true meaning of love.

Genevieve McInnis is locked behind the fortified walls of McHugh Keep, captive of a cruel laird who takes great pleasure in ruining her for any other man. Yet when Bowen Montgomery storms the gates on a mission of clan warfare, Genevieve finds that her spirit is bent but not broken. Still, her path toward freedom remains uncertain. Unable to bear the shame of returning to a family that believes her dead or to abandon others at the keep to an imposing new laird, Genevieve opts for the peaceful life of an abbess. But Bowen's rugged sensuality stirs something deep inside her that longs to be awakened by his patient, gentle caress -- something warm, wicked, and tempting.

Bowen seizes his enemy's keep, unprepared for the brooding and reclusive woman who captures his heart. He's enchanted by her fierce determination, her unusual beauty, and her quiet, unfailing strength. But wooing her will take more than a seasoned seducer's skill. For loving Genevieve, he discovers, means giving her back the freedom that was stolen from her -- even if it means losing her forever.
Full Synopsis
About the Book
Published:

Mar-2013

Formats:

Print / eBook / Audio

Pages:

352

Purchase:
What Readers Are Saying
What do you think? Write your own comment on this book!
Write a Comment

I did enjoy this book but not nearly as much as the first. I found the hero's character to be lacking and the initial interactions not really what I hope for in my romance novels, I understand that some of that has to do with Genevieve's circumstances and how she came to be in the McHugh holding. I did truly enjoy the way she overcame the abuse she suffered at the hands of the entire McHugh clan, treatment which even today would be difficult for any woman to come back from. I found this was a book more about Genevieve and the love story between her and Bowen was more of a backdrop. I was disappointed in the portrayal of Graeme's initial reaction to what drove Genevieve to some of her decisions and her hand in Eveline's abduction I felt that it was truly out of character for him based on the first book, however Eveline's reaction as well as Rorie's was exactly what I expected based on the first book.. I felt I finally got a small look at Bowen's true character at the end of the book when he realized he must go against Genevieve's wishes by contacting her family an act which he knew would cause him lose her. I also found the ending to happen a bit abruptly. I am still wondering what is to become of the McHugh clan, I would assume that part of the story line will continue in the next book. I am still looking forward to the next installment, but hope for a more rounded development of both main characters.
I just finished reading the next installment of the Clan Montgomery "Highlander Most Wanted" by Maya Banks. The book was very entertaining and endearing because it was a true test of forgiveness. If you read the previous book, you will remember the unknown woman who saved Eveline Montgomery from a madman. The woman's name is Genevieve McInnis . She was kidnapped by the Ian McHugh who was obsessed with her. She was held captive at his home for a year, never to see her family who thought she died. McHugh tortured Genevieve in a horrendous manner. But she was smart enough not to lose her humanity.
Enter one handsome, totally over the top hero and his name is Bowen Montgomery. He is truly the most understanding person you will ever meet. He has taken over the McHugh keep because the McHugh Laird has flown from his clan a coward in their eyes. The people are confused, outraged and mad because of the situation. When Bowen meets the woman who saved his brother's wife he sees a most courageous lass. When Genevieve has to reveal her face to Bowen, she is very afraid that this man will be like the others.
I hope you will read this great and inspiring book about love and heroes you will never forget.
I received this early ARC digital copy from Net Galley for an honest review.