Description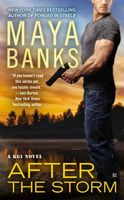 The Kelly Group International (KGI): A super-elite, top secret, family-run business.

Qualifications: High intelligence, rock-hard body, military background.

Mission: Hostage/kidnap victim recovery. Intelligence gathering. Handling jobs the U.S. government can't...

Over the years, Donovan Kelly has fought relentlessly for justice, women and children always holding a special place in his heart. Working side by side with his brothers, Donovan has witnessed firsthand the toll it's taken -- physically, mentally, and emotionally -- on his loved ones, and the innocent lives caught in the crossfire. What he never expects is for his next mission to happen right on his home turf -- or for it to take a very personal turn.

Picturesque Kentucky Lake is the perfect place for a soul in search of safe harbor. A beautiful stranger has arrived -- desperate, breathless, and on the run from a dark past closing in on her and the younger siblings she has vowed to protect. Donovan must now draw on every resource at his disposal -- if he wants to save a woman and the children who may prove to be his destiny.
Full Synopsis
About the Book
Published:

Jan-2014

Formats:

Print / eBook / Audio

Pages:

392

Age Level:

18 & up

Purchase:
What Readers Are Saying
What do you think? Write your own comment on this book!
Write a Comment
Overall Rating: 2.25
Action: 2.0 / Emotion: 3.5 / Romance: 3.5 / Sensuous: 1.5 / Suspense: 2.5 // Laughter: 1 / Giggle: 1 // Tears: 2 / Teary: 3

When a book is listed as a "Romantic Suspense" and has a hunky, military-looking guy on the front cover carrying a big gun, the inside of that book should have a story filled with plenty of exciting action featuring that big, bad macho man as he rushes to save his brave, strong, intelligent lady from the danger that has been increasing exponentially as each page is turned. To round out the story, as the nail-biting suspenseful action takes place, the hero and heroine should be developing a relationship based on the strong, powerful awareness that sparks between them. This is NOT that book!

A more in-depth, detailed, spoiler-ridden review of *After The Storm* appears at Wolf Bear Does Books (http://goo.gl/t0Y5QT).