Description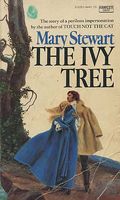 A TRICK OF COLORING... HER WALK... THE WAY SHE SMILED...

An English June in the Roman Wall countryside; the ruin of a beautiful old house standing cheek-by-jowl with the solid, sunlit prosperity of the manor farm - a lovely place, and a rich inheritance for one of the two remaining Winslow heirs. There had been a third, but Annabel Winslow had died four years ago - so when a young woman calling herself Annabel Winslow comes 'home' to Whitescar, Con Winslow and his half-sister Lisa must find out whether she really is who she says she is.

Mary Grey has nothing to look forward to except a future as colorless as her name. So if she looks, walks, and smiles so much like the glamorous missing heiress Annabel Winslow, why not be her for a little while? To the lonely young woman--living in a dreary furnished room, faced with an uncertain future--the impersonation offered intriguing possibilities.

If Mary looked so much like the missing heiress, why should she not be an heiress? And so plain Mary became the glamorous Annabel. But she did not live happily ever after. In fact, she almost did not live at all. Because someone wanted Annabel Winslow missing ... permanently.
Full Synopsis
About the Book
Published:

1961

Formats:

Print / eBook / Audio

Pages:

223

Purchase: