Description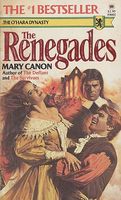 Betrayed and driven...
They were THE RENEGADES

Under the tyranny of Cromwell's Puritan rule, the Irish fought vainly for their freedom.

Caught in the struggle, Irish beauty Maggie O'Hara waged her own fierce war against marriage to a ruthless cruel Englishman--a man who sought to take her just as he had taken the lands and title of her beloved Ballylee.

And thousands of miles away, on the slave plantations of Barbados, another battle was being waged--that of a handsome Irish rebel determined to

flee bondage and return to Maggie, the woman he loved.
Full Synopsis