Description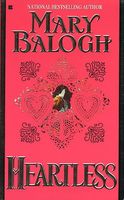 Lucas Kendrick, the Duke of Harndon, had never met a woman like Lady Anna Marlowe. For years he had refused to feel love, but he was captivated by Anna's beauty and her rustic innocence. Anna's heart raced whenever she was around Lucas. After what seemed like a lifetime of pain and suffering, she had learned that life still held joy - and maybe love.

When they married, both Anna and Lucas were dreaming of happier futures. But those hopes were crushed when a cold confrontation found them denying their feelings. Anna felt foolish for believing that her nightmare past was over. She told Lucas that she had married only in the hope that her new husband would take care of her family. Lucas was furious that he had allowed himself to feel for someone again - and told Anna that he had married her only because of the duty of his station.

They resigned themselves to a heartless marriage of duty, and a return to past unhappiness. But in their hearts, their dreams would never die...
Full Synopsis
About the Book
Published:

Oct-1995

Formats:

Print / eBook / Audio

Pages:

389

Age Level:

18 & up

Purchase: