Description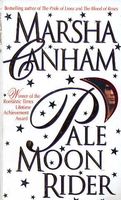 "IT WAS A FINE NIGHT FOR TREACHERY, DARK WITH A PALE MOON RISING..."

Like a wraith he appeared in the Coventry night, the notorious highwayman called Captain Starlight. Renee d'Anton watched, breathless, as the cloaked figure commanded, "Stand and deliver!" and her coach shuddered to a halt. Little did he know Renee had come in desperation to meet him. For the dark, seductive highwayman was her only hope in a perilous game of chance....

She was pure temptation, challenging Tyrone Hart to steal a set of heirloom rubies

and name his price. He couldn't resist her. So he agreed to risk his life for the fiery beauty--to recover the jewels that would free her from an arranged marriage and an unspeakable threat. But first Renee had to win his trust--even as she ignited passions that seduced him out of the shadows to sweep her into his arms....
Full Synopsis