Description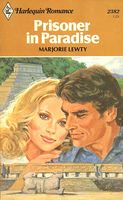 Her stepfather lived in a fairy-tale world

Ralph Francis had snatched Sara from her boarding school and thrust her into his jet-set life-style. She was delighted with her stepfather's generosity--and the excitement of their life together.

Until Tim Knight came along. Ralph objected to Sara's friendship with Tim--and so did Tim's formidable brother Jason. Jason thought Ralph was dishonest and that Sara was in league with him.

Suddenly, truth and tragedy eliminated both Ralph and Tim--leaving Sara at Jason's

mercy.
Full Synopsis