Description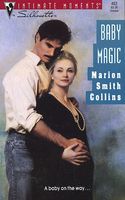 A BABY ON THE WAY

Growing up, best friends Natalie and Lisa had shared everything -- eventually even the same last name: Armstrong -- one brother for Natalie, another for Lisa. But even a family foursome bound by love was no fortress against fate. Three years after Natalie was widowed, Lisa died, leaving her husband Jake and Natalie the precious gift they all had meant to share.

Natalie was sharing Lisa and Jake's baby.

The dream child Natalie couldn't conceive, and her best friend could not bear, was

growing inside her. And, as the magic of life swelled within, a light of rebirth was struggling in the darkness to reach Jake -- a man bitter with loss and aching with want -- and remind him it was safe to touch ... hold ... cherish ... the mother of his child.
Full Synopsis