Description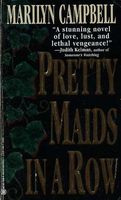 Holly Kaufman's safe little world is falling apart. A longtime romantic relationship is on the rocks. She's falling in love with an entirely inappropriate, entirely irresistible man. And a recent encounter witrh a former college acquaintance is forcing her to remember her own tormented past and the violent abuse she's kept secret.
Thirteen years ago five innocent, bright young coeds were brutally taken advantage of by a fraternity with a taste for rape. The women, too ashamed to demand any official retribution, formed instead an ultrasecret support group called the Little Sister Society. Over a decade later the group is sitll meeting, only now revenge is the first item on their agenda and the results have been most satisfactory.
Pretty Holly Kaufman, a powerful invironmental lobbyist, was also raped by the fraternity brothers, so when she's asked to join the Little Sister Society, she hesitates only briefly. But when the former frat boys start truning up dead and minus a certain significant organ, Holly wnats out. Unfortunately, she's become a primary suspect and her only hope lies with the man she has grown to love passionately, yet knows she cannot trust.
Full Synopsis
About the Book
Published:

Mar-1994

(Hardcover)

Jan-1995

(Paperback)

Formats:

Print / eBook

Pages:

384

Purchase: